Types of Garage Doors
As you drive down many streets in America, one of the things, you're going to see a lot of beside homes are garages. These days, a garage is as much a part of the single-family home experience as the lawn or picket fence but much more pragmatic.
A garage not only protects your car from the elements, but an attached garage can protect you from those same elements as you go from home to vehicle. A garage can pull double duty as a place to park one or more cars, keep storage, or set up a small workshop.
The two things that matter most when it comes to your garage door are functionality and appearance. Over the years, garage door technology and design have only improved so that today's garage doors do an excellent job protecting both your car and your home. On top of that, how your garage door contributes to curb appeal can make a difference in the value of your property and how neighbors see you.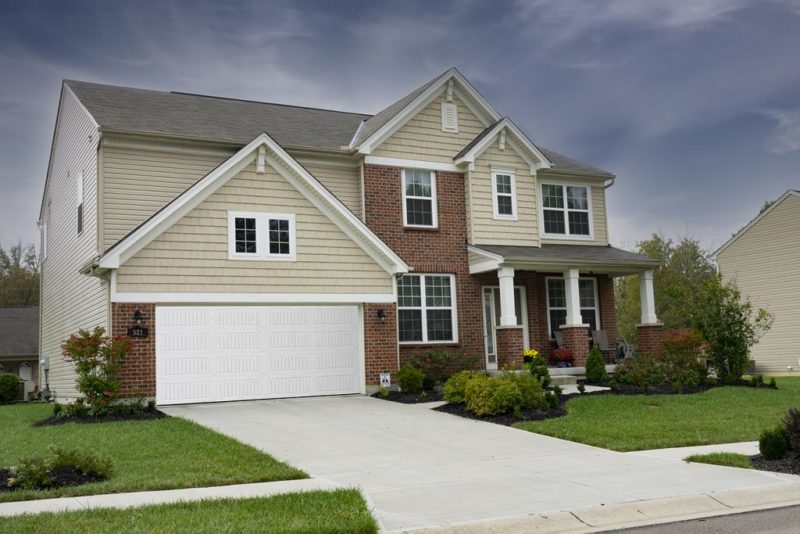 Here's a quick rundown on garage door styles and materials so you can make an informed decision on what sort of garage door is going to suit your home best.
Garage Door Styles
Most garage doors come in two primary styles—sectional and carriage.
Sectional
A sectional door consists of horizontal panels connected by hinges and fitted with rollers that run along two parallel tracks. It's easily the most popular style of door you'll see in residential neighborhoods. Sectional doors can come with or without windows—giving you a choice to take advantage of natural daylight should you wish. The panels that make up a sectional door can come in various shapes and styles, from square and arched to contemporary or traditional.
Using a heavy-duty torsion spring wrapped around a torsion bar that acts as a counterweight for the door, a homeowner can easily lift the door manually or use a motorized garage door opener. Motorized lifting systems can be performed by a chain, belt, screw, or direct-driven systems.
Carriage
Carriage doors often bring to mind the idea of French doors or, possibly, barn doors on garages designed to have a more rustic look. These swing-style doors—usually made of wood—hang on vertical hinges. Their overall appearance often meshes nicely with the rest of the home. And because they seal well at the header and side jambs, they are considered more energy-efficient and do a superb protecting the contents of your garage from the weather.
While elegant and classy in appearance, and energy-efficient, there are a couple of downsides compared to sectional garage doors. Because carriage doors swing outward, they require more clearance to open before moving a car inside. They can also take longer to open and close manually and are more expensive to automate.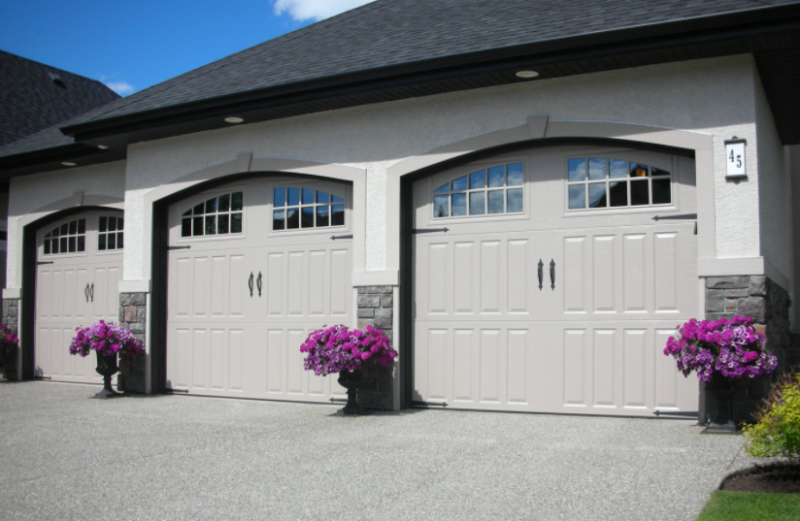 Garage Door Materials
Like the front door of your home, a garage door can be made up of a wide range of materials, including steel, aluminum, fiberglass, vinyl, wood, or wood composites.
Steel
These doors consist of twin layers of galvanized steel often covered with a composite material or primed and painted with a weatherproof topcoat finish—both of which can be made to match the look and hues of your home.
The only significant issue with steel doors is that they can dent and suffer from corrosion in coastal areas.
Aluminum
While garage doors fitted with aluminum panels also dent, they aren't as susceptible to rust like steel doors. They come in select brushed finishes and a variety of colors. You can even substitute some aluminum panels with translucent glass so you can admit natural lighting without sacrificing privacy.
Fiberglass
These garage doors are made up of two layers of fiberglass bonded to a steel frame and insulated with polyurethane. They can be less susceptible to cracks and dents, and they don't rust, but they can break when subjected to specific impacts.
Vinyl
Considered by many to the kid-proof style for garage doors, vinyl is difficult to dent or break. Like fiberglass, vinyl garage doors are connected to steel frames and filled with polyurethane insulation. They're known for their durability and the need for very little maintenance. The only real downside is that vinyl comes in fewer colors than other materials.
Wood
To prevent warping, wood garage doors are built with layers and can be factory-stained, painted, and treated to prevent insect damage. They can also be painted on-site after installation to match your home's colors and textures.
Wood composite
Wood composite doors usually consist of fiberboard sheets covering a wood frame. Some models offer higher-density fiberboard skins with realistic details that simulate natural wood. As with other frame models, the cores are filled with polystyrene insulation.

Your Local Experts Are Standing By
Selecting the right garage door for your home can be a big decision. The experts at Hostetler & Askew Door stand ready to assist you in finding the best door for your needs.
Our trained professional staff is just a phone call away. Contact us today with your garage door questions, and let us get you set up with the very best.