How To Fix Your Garage Door
Every Indiana homeowner will, at some point, face garage door hiccups. Whether it's an unusual creaking sound or a sluggish door movement, Hostetler & Askew has your back. Here's a guide to some common issues and when you might need to reach out to our trusted professionals.
The Reluctant Door

Quick Checks: Test the door's balance by manually lifting it. An unsteady door indicates imbalance. Also, ensure your home's power isn't causing the issue.
Need Expert Help? If the issue persists, let our seasoned technicians take a look.

Sensor Hiccups

Clear the Path: Keep the sensor's path free from branches and check for dirt on the antenna.
Still Having Issues? It's time to call in the experts.

Spring Snaps

Safety First: Broken springs can be a hazard. If you hear a snap or see a break, avoid using the door.
Professional Touch: Always let a professional handle spring replacements.

Roller Rollercoaster

DIY Tips: Old rollers can be lubricated for better function.
Need a Replacement? If lubrication doesn't solve the issue, let us handle the roller change.

Outdated Opener

Checks: Ensure batteries are good, and the signal path is clear.
Upgrade Needed? If your opener is over two decades old, consider an update with our top-quality options.

Noise Galore

Possible Causes: Loose chains, rusted parts, misalignment, or broken springs.
Unsure About the Noise? Trust your ears and let our experts diagnose and fix the issue.

Uneven Movement

Quick Fixes: Clear the door path and check for rust.
Spring Issues? Misaligned springs can be dangerous. If in doubt, call us.

Turtle-paced Opening

Maintenance: Ensure tracks are clean and parts are lubricated.
Regular Checkups: Consider our bi-annual maintenance service for long-lasting performance.

Transmitter Troubles

Simple Solution: Most times, a battery replacement does the trick.
Persistent Problems? Let our technicians have a look.

Keypad Miscommunication
Refer to Guide: Most issues can be resolved by syncing as per the manual.
Still Out of Sync? We're here to assist.
Don't let garage door troubles slow you down. As a trusted name in Indiana for over 40 years, Hostetler & Askew is dedicated to ensuring Hoosier homeowners have smooth and secure garage operations. If you're facing any of these challenges, or something unique, reach out today. We're here to help.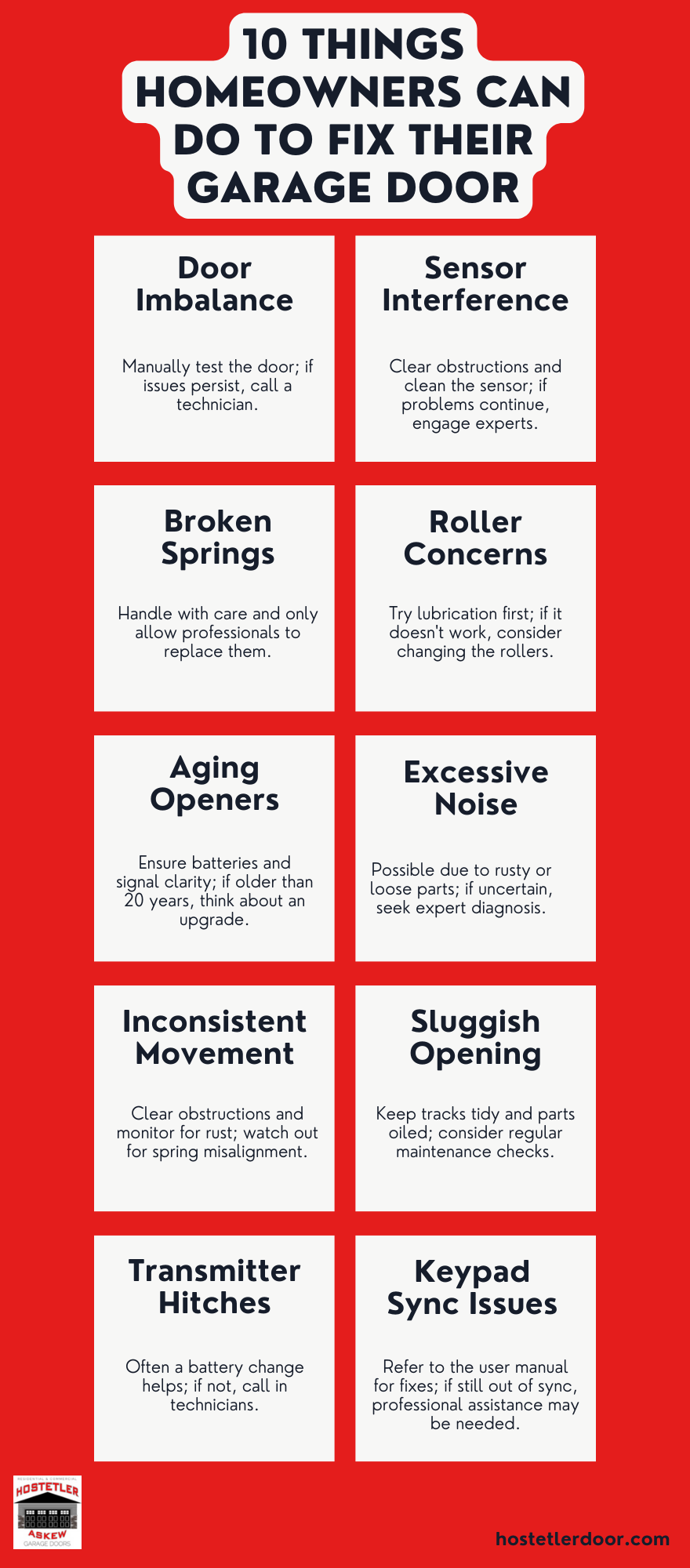 Considering Garage Door Replacement in Indiana?
Hostetler & Askew understands the importance of curb appeal for Indiana homeowners. Enhancing your home with a garage door replacement not only boosts its aesthetic but also offers a commendable return on investment in home improvement projects. Here's a comprehensive breakdown of what you need to know:
Cost Overview:
Typically, garage door replacement costs, including dismantling the old setup and installing the new, fall between $600 and $1,700.
The national average, inclusive of supplies and labor, stands at about $1,200.
However, the price varies based on the door's quality, size, and features. You might spend as little as $400 for a basic aluminum door or as much as $4,700 for a luxury double door.
Size Matters:
One-car garage doors: $500 to $2,000.
Two-car garages: $1,100 to $4,700 for two single doors or $800 to $4,200 for a double-width door.
Three-car garages: Costs range from $1,500 to $7,400 depending on door combinations.
Type of Door:
Tilt-up: Manual and requires space, costing $500 to $1,600.
Sectional: Automated, common in the US, and priced between $500 and $1,800.
Roll-up: Durable, complex, and costs from $700 to $2,500.
Carriage House: Architecturally rich and priced at $1,000 to $7,000.
Material Choices:
Aluminum: $600 to $3,000.
Steel: $650 to $3,100.
Wood composite: $800 to $4,500.
Vinyl: $800 to $2,500.
Fiberglass: $900 to $3,000.
Wood: $900 to $4,500 (requires maintenance).
Glass: $1,000 to $5,000.
Other Factors:
Brand quality.
Insulation needs.
Inclusion of windows.
Garage door opener systems.
When considering a garage door replacement, aligning with a trusted professional like Hostetler & Askew ensures quality and satisfaction. Our expertise caters to every homeowner's unique needs in Indiana.

Get Help Now
In conclusion, Hostetler & Askew remains a steadfast resource for Hoosier homeowners navigating the complexities of garage door challenges. With over 40 years of trust and expertise, Indiana residents can rest assured that prompt, professional solutions are just a call away.
Don't let a faulty garage door hinder your day; reach out to the experts. 574.444.9700