Emergency Garage Door Repair Services
If you're looking for the best choice in garage door services in Warsaw, Hostetler and Askew Door are here for you. We've provided high-quality sales, installation, and repair for the Warsaw area for over 70 years. So if you're having a problem with your garage door, day or night, we've got you covered. Whether you need help with a small problem, need advice on a new garage door, or need emergency repairs, we're here for you.
Residential and Commercial Garage Door Repair
Even the most well-maintained garage door can run into problems over time, and those problems can inconvenience you every morning before your commute or cripple the productivity of your business. Call us, and we'll send a technician to help immediately. Remember, any delay in servicing your garage door can result in additional damage and more costly repairs or replacements.
Here are a few signs that your garage door needs service, whether an emergency or not:
The garage door only opens partially or doesn't completely close
The motor functions, but the garage don't open
The door opens without engaging the security pad or opener
You hear a grinding noise when the door opens or closes
The motor has begun to falter or stopped working completely
If you run into any of these problems, don't hesitate to call. We are here for you!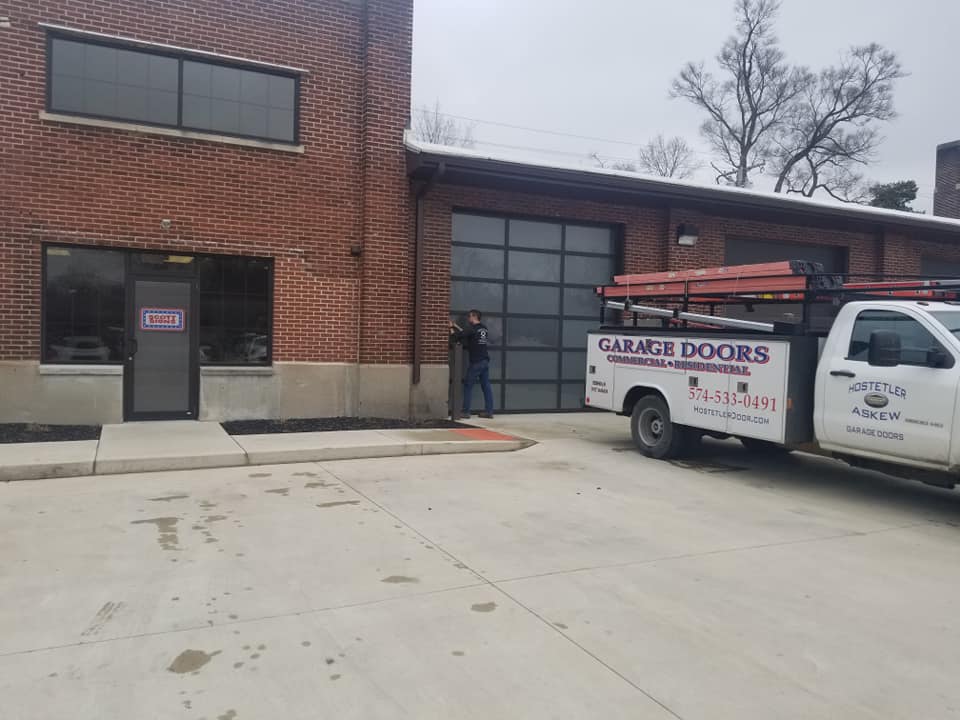 Best New Garage Doors in Warsaw, IN
Make the right choice when it comes to your new garage door. Functionality and aesthetics are essential for home and commercial garage doors, so don't sacrifice either. Hostetler & Askew Door have some of the most trusted names in Amarr, Wayne Dalton, and Safeway at our disposal, and our expert technicians are ready to provide fast, reliable, high-quality installation and knowledgeable service at your call.
Emergency Garage Door Opener Installation and Repair
If you run a busy warehouse, you don't have time to manually open and close a garage door during a busy rush or tight schedule, and at home, you don't want to have to get in and out of your car repeatedly. Time is precious, so call us to repair your garage door opener, and we'll get there fast.
We also provide professional, expert installation of garage door openers to ensure they last long and never let you down. A poorly-timed malfunction can cost you if you're running late to an appointment or on your way to work, so trust the best in the garage door business to install or repair your garage door opener in Warsaw. Contact us for a free quote!