Hostetler & Askew Door provides a comprehensive list of garage door services to customers throughout Mishawaka, Indiana. Our team can keep your garage doors functional and beautiful, with benefits for both residential and commercial customers. We have been serving the area for over 40-years and are ready to put that experience to work for you.
At Hostetler & Askew Doors, we are not a handyman who offers multiple services. We focus entirely on garage doors, which means you get expert insight into your doors. Whether you have a broken spring that needs to be repaired, are looking for installation help, or need replacement, our team is on the job.
Garage Door Repairs in Mishawaka, IN
The garage door pros at Hostetler & Askew Doors are highly experienced in finding and repairing garage door problems. Some signs that you may need garage door repair include:
Doors only open partially
Running motor but no motion on the door
Grinding or screeching noises from the unit
The door cannot be opened manually
Broken springs
Broken panels or glass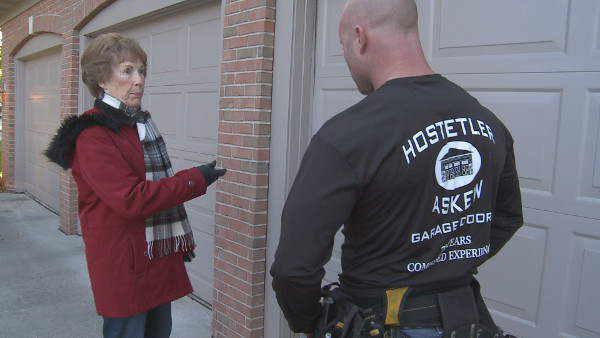 If you have any of these problems, our experienced garage door repair professionals are standing by to help. We have seen it all over our years in business, and we know how to repair it. Call us at the first sign of a problem, so we can get to work fixing it effectively.
Garage Door Installation in Mishawaka, IN
While most garage door problems can be repaired, sometimes a new garage door is the best option. Whether you are looking to improve your home's aesthetics or feel that replacement is more cost-effective, Hostetler & Askew can help you find the right door to fit your space. We have a wide range of products to choose from to match most architectural styles.
Not only do we assist homeowners with finding the right garage doors, but we also offer commercial garage door installation. Our commercial garage door options include sectional commercial doors and roll-up steel doors. These provide security, climate control, and access, so your business can operate efficiently.
Garage Door Opener Services
A beautiful garage door is only a benefit if you can properly open it. That is why Hostetler & Askew Doors offers garage door opener services. From installation to repair, we will keep your doors in Mishawaka functional with working openers.
Choosing the Right Garage Door Team in Mishawaka
When you need garage door services, you need an honest and reliable team that knows garage doors well. That team is Hostetler & Askew Doors. We only do garage doors, and our expertise is readily available to you. Whether you call us for repair or installation service, we back our service with a satisfaction guarantee. Please schedule a free consultation to discuss your garage door installation or contact us for prompt repair in Mishawaka today.