Garage Door Operating System Buying Tips
Are you looking to purchase or replace a garage door?
It can seem like a daunting task at first. A quality garage door can add a lot of value to a home and will likely be an integral part of your daily life. Understandably, you want to get it right but are worried you don't know enough about the ins and outs of garage door installation.
Not to worry.
Here is a helpful introduction to the art of garage door purchasing.
Garage Door Or Garage Door Opener: Which Comes First?
The ideal answer is to try and get both simultaneously, so they're matched right at the beginning. Purchasing a garage door opener system at the same time as you are buying your door—either as a new installation or replacement—means you'll be more confident the opener system will work in concert with your door without any issues. Different doors work best with different designs, so it's recommended to have that sorted out as early as possible.
A garage door dealer should be able to help you determine the most compatible opener system for your needs. Even if you already have a garage door, ask your dealer or local professional for their recommendations based on the type, size, weight, and frequency of use. Be prepared to purchase additional parts such as adapters and extension kits to help make the food and opener work better together.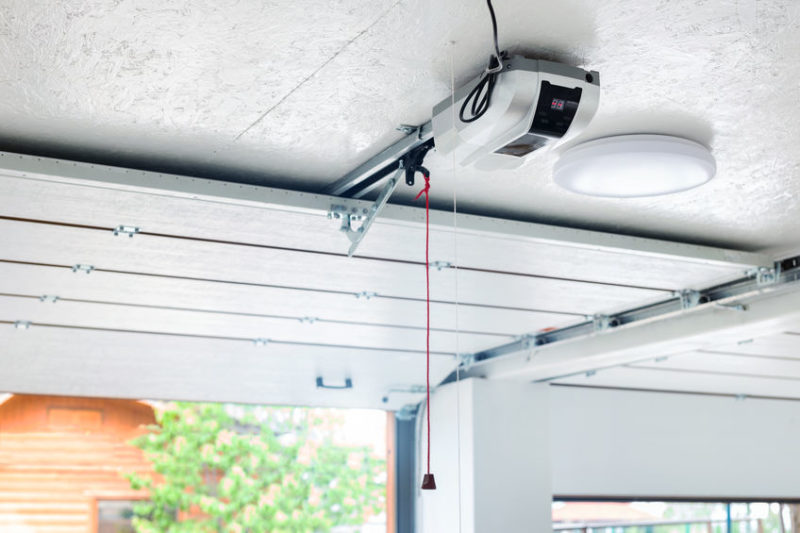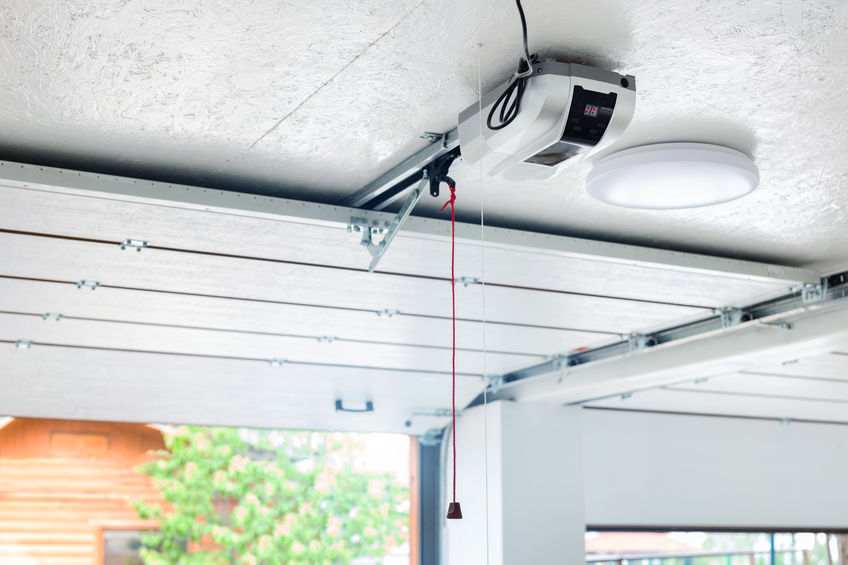 Weight Capacity and Drive Styles
These two factors figure high in selecting your garage door opener. What horsepower can best manage your garage door's weight, and what drive style will work best? The specifics of the door determine the best type of opener.
A standard single-wide aluminum garage door, for instance, will work well with a ½ HP opener, but if you'll be using it frequently as the main entrance to your home, or it's a heavier style of garage door, you may want to go with a ¾ HP garage door opener.
Choosing the most appropriate weight and garage door style will help keep your garage door opening system working correctly.
The type of drive is also important. If your garage door opener is near a living area or to a bedroom, you may want to choose a belt-driven opener with its lower vibration and noise. If your garage door is heavy, you may want a screw-drive opener.
Here's a quick breakdown of the most popular options:

Belt Drive: These use a steel-reinforced belt that offers both durable and quiet operation. Recommended if the garage door is located near bedrooms or nurseries, they're often the best choice for disturbance-free operation.

Chain Drive: This option is popular for both its affordability and durability. Chain drives are a popular choice for standard aluminum garage doors. They are noted for their ruggedness and use over a long period of time, assuming they receive minimal periodic maintenance.

Screw Drive: This direct drive system uses forged steel that provides robust, reliable, and quick operation. These drives are ideal for more expansive, heavier doors and speed. They're also very popular for commercial garage door applications.
Additional Features To Consider
Of course, there can be more to a good garage door opener than horsepower and drive. Many systems have additional features available that improve functionality and convenience.
Other features to look for when purchasing a garage door system include:
Phone app connectivity for control and scheduling
Online monitoring
Added security features
Battery backup options
Increased safety features
Wireless signal blocking for increased security
While added features can increase the cost of a system, the peace of mind with quality security options and the convenience of controlling your garage access at any time from any place can make the cost worth it.

Professional Installation Or Do-It-Yourself?
And now there's the question: "Do I install my garage door opener myself, or have a pro do it?"
Some systems are easier to install than others. Simple, aluminum single doors are pretty simple. Many systems are explicitly designed for do-it-yourself installation. However, the heavier the door and the more specialized its operation or use, the more complicated installation.
Cost and installation time are factors, but so is safety. Garage doors can be heavy and, if installed improperly, can lead to personal injury or damage to property.
Check with your garage door opener dealer for their recommendations, or contact a local garage door specialist for advice. Many will be more than happy to come by and offer a free quote.
Professional Service Standing By
Purchasing a garage door opener can be a big decision when it comes to safety, reliability, and your garage door's health. Don't be afraid to ask questions. If you're still unsure what the best choice is for you, play it safe and seek expert advice from the professionals at Hostetler & Askew Door.
Our trained professional staff is always ready to help, and they're just a phone call away. Contact us today to get your garage door operating smoothly.