Professional Garage Door Opener Installation
Hostetler & Askew Door has been serving its customers for over 40 years. We've learned a few things about just how important a garage door opener can be to homes and businesses during that time. If you need function, convenience, and safety, you must have a team of knowledgeable professionals install your next garage door opener.
Let's find out how Hostetler & Askew Door is a step above the rest.
High-Quality Service From Industry Professionals
When it comes to garage door openers, we know our products inside and out. Our expert technicians take pride in their work and can help you choose the perfect garage door opener for your needs. We work with the industry's top brands like Liftmaster to safeguard your home and keep your business running smoothly. Garage door opener installation from our team of professionals ensures a safer, smoother, more durable garage door system for years to come.
We Care About Our Customers
Whether the job is big or small, you can be confident in our work. Both businesses and families have trusted our service for over 70 years, and we guarantee you'll be happy with your new garage door opener. Give us a call to talk about your needs, and we'll help you pick the perfect product. Whether you need to keep your garage quiet when you come home from work to a sleeping family, or you want to monitor and control your garage door opener through your tablet, smartphone, or computer, we have options for you.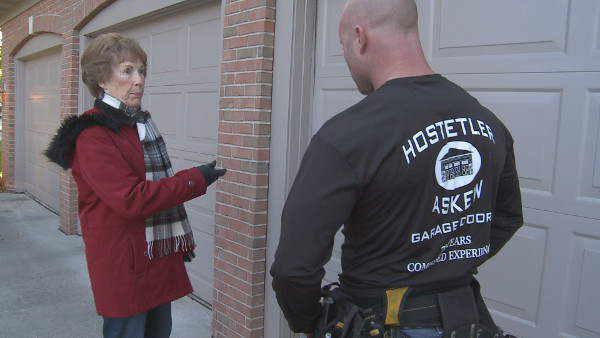 Businesses Trust Us to Get the Job Done
When you need experts to get you out of a jam, call Hostetler & Askew Door. We're readily available to diagnose any problems and recommend replacements or repairs. We factor in the garage door opener's age and condition, type of door, and frequency of use into whether or not you should replace your garage door opener to prevent future downtime and costly maintenance. If you want to ensure that your garage door opens quickly, quietly, and reliably every time, choose our trained technicians for your next job.
We Offer Homeowners a Wide Selection of High-Quality Garage Door Openers
Our garage door openers collection includes, but is not limited to, belt or drive chain and wall or ceiling mount. We have an option that fits your needs, so don't hesitate to call. The Liftmaster Models 1355, 3255, and 8500 are the best in class.
When you need reliability, Liftmaster is king. These models have a 75-watt or 100-watt adjustable light time delay and PosiLock to monitor against a forced opening. The ½ HP motor and industrial-strength chain provide reliable power and steady performance. In addition, the 8500 model's ultra-quiet function eliminates sound and vibration.
The Best Commercial Garage Door Openers
We provide Jackshaft and T-Style trolley commercial door openers to increase function and reliability. The Jackshaft style operator is optimal for industrial applications. A T-Style trolley can be used for general industrial applications and is suspended from the ceiling. Our next generation of commercial garage door openers emphasizes durability and strength so that you're never left without the use of your garage door.
Indiana homeowners and businesses can rely on the team at Hostetler Door for all of their garage door opener needs. Contact us today for a free quote!