Types of Electric Garage Doors
Choosing a new garage door can be a big decision depending on your home or commercial property owner's needs. You want something reliable, durable, and easy to operate. Ideally, you also want it to look as nice as possible.
But what to choose?
Here, we run down the most popular electric garage doors for residential and commercial structures. After reading through this list, make sure to contact the garage door experts at Hostetler & Askew Door for more information.
1) Sectional Garage Doors
Sectional garage doors are trendy for most homes in the US. Made up of three or more hinged panel sections, these doors use a combination of vertical and horizontal tracks to open and close the door vertically.
Sectional garage doors tend to operate smoothly and quietly and are available in various materials, finishes, and colors. In addition, they can come insulated or not, depending on your needs. For security-conscious homeowners, sectional doors are also considered an excellent choice.
The only downside is they tend to be more expensive than other styles of doors due to the complexity of the mechanisms involved. However, many homeowners find it a good trade-off due to flexible styles and a reputation for security.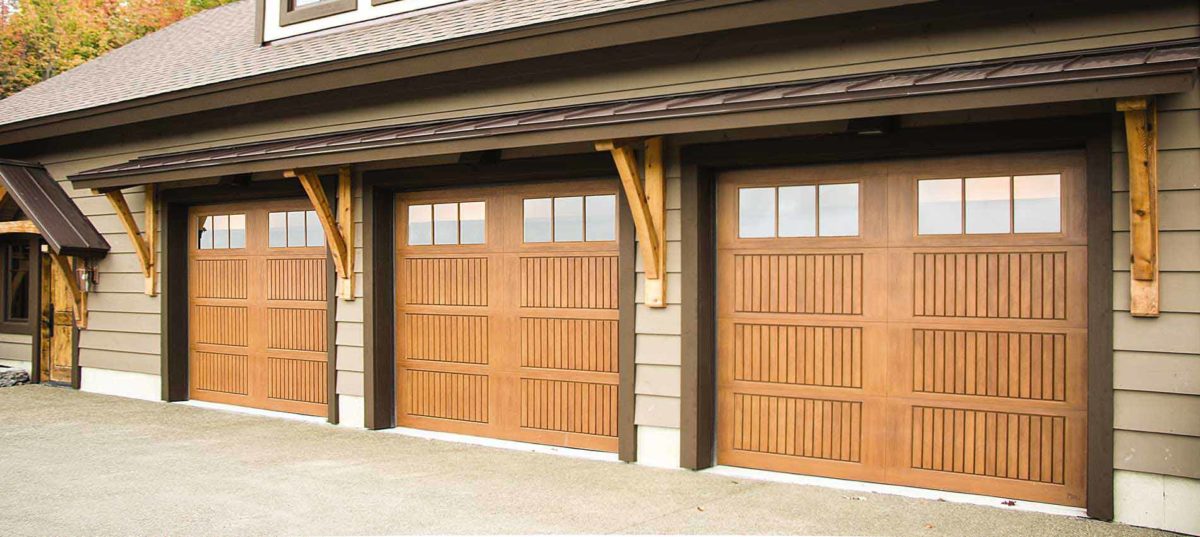 2) Roller Garage Doors
Popular for commercial structures and residential properties, roller garage doors are made from corrugated steel or aluminum panels and roll up (hence the name) into a cylindrical shape at the top of the garage door opening.
Roller garage doors are considered another good security option to help keep your entry points and belongings safe. They are durable, rust-free, and can withstand most weather conditions. In addition, their compact design and simple mechanism make them an excellent low-maintenance choice.
While roller garage doors may not have the same aesthetic appeal as a sectional garage door, they often come with a range of color choices.
3) Slide-to-the-Side Garage Doors
As the name implies, slide-to-the-side garage doors open on one side, then bend around the garage to be positioned parallel to the wall. This is good for garages with limited headspace or those that get a lot of pedestrian traffic as the door can be easily opened partially.
The downsides to consider with slide-to-the-side doors are that they are not the best weather-proof option available to you and can be a touch expensive.

4) Side-Hinged Garage Doors
These doors function like any outward-swinging door. Side-hinged garage doors can allow for more room inside the garage but can be tricky to use if paired with a short driveway. They are typically manually operated, but it is possible to convert them—with some work—to automatic operation.
5) Tilt-Up Canopy Garage Doors
These classic doors are made of a single panel that tilts up into the garage ceiling, with around one-third of the door extended out above the garage entrance like a 'canopy.'
Canopy garage doors are simple to use and one of the cheapest options available. The drawback is that they usually require manual operation. It's possible to convert them to open and close automatically, but the expense involved rarely makes it worth it.
Your Local Garage Door Experts
Selecting the right garage door for your home or commercial property can be a big decision. The experts at Hostetler & Askew Door are ready to assist you in finding the best door for your needs.
Our trained professional staff is just a phone call away. Contact us today with your garage door questions, and let us get you set up with the very best.